ISUZU's VISION
ISUZU will always mean THE BEST. A leader in transportation, commercial vehicles and diesel engines, supporting our customers and respecting the environment.
MISSION
A global team delivering inspired products and services committed to exceeding expectations.
Mr. Masanori
Katayama
President and
Representative Director
ISUZU Motors Limited, Japan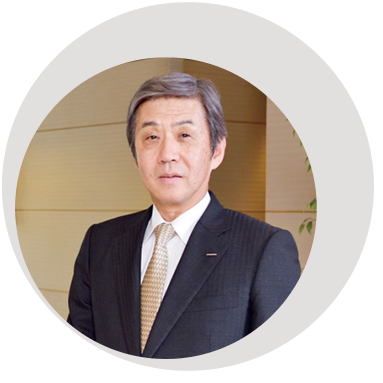 Pursuing to become a respectable company by "broadening" and "innovating" potentials
As a maker of commercial vehicles, Isuzu delivers worldwide a broad range of models from light-duty vehicles such as pickups to heavy-duty tractors with massive 16-liter engines.
Moreover, it has established itself uniquely as a supplier of diesel engines to fellow vehicle manufacturers as well as non-automotive industries.
We strive to provide proactive "uptime" support throughout the entire vehicle life-cycle, from purchase decision to the after sales, and remain a company that contributes to the sustainable development of the community and society.
Changes are happening in the environment surrounding transportation as well as customers' needs. To set for a smooth sailing in this new wave of change, Isuzu will continue to "broaden" its vehicle and powertrain technologies and global business horizons, and simultaneously "innovate" into future frontiers.
We embrace challenge, pursuing to become an excellent and respectable manufacturing company of vehicles (CV and LCV) and powertrains developed to enlighten people's life and production activity.